Subscribe to HWH's Free Updates:
ABC Family Released New 'Pretty Little Liars' Episode 13,Season 3 Spoilers & Clips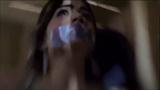 ABC Family released new 'Pretty Little Liars' episode 13,season 3 spoilers & clips. Last night,ABC Family dropped the new spoilers and sneak peek,clip (below) for their upcoming "Pretty Little Liars" episode 13,and it looks pretty wicked as poor Aria gets bound and gagged when the girls get in major trouble on the "A" train. The episode is called, "This is a Dark Ride."
In the new episode 13, former American Idol star and current top-selling music artist Adam Lambert ,makes a guest appearance,and is seen turning it out when he sings a song for the party. Everyone is seen getting down with they bad selves and having a blast. However, the fun quickly ends,and the nightmare begins, once "A" shows up.
The girls are seen,getting into major trouble. At one point, Spencer is running for dear life, while Aria is trying to scream for help. Unfortunately,no one hears her because she's tied up,bound,and gagged. Episode 13 airs Tuesday,October 23rd at 7pm central time on ABC Family as part of their Halloween special. Follow us on Facebook by Clicking Here. Follow us on Twitter by Clicking Here.
Did You Enjoy this Post? Subscribe to Hollywood Hills on Facebook, Twitter, & Email
Recent Posts from On The Flix: