April 18, 2014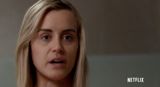 New Orange Is The New Black season 2 official trailer spoiler clip released. Yesterday, Netflix released the new, trailer/spoiler clip (below) for their upcoming "Orange Is The New Black" season 2, and it looks pretty wild as Piper is ready to rip out throats. New girl, Vee, has a confrontation with Red, and more.
In the new clip, Piper is spotted, trying to come off as a model inmate, and no longer posing a threat to anyone. At one point, we see a new character, Yvonne "Vee" Parker, showing up,and it appears that she's going to have one hell of a showdown with Red at some point. However, Vee seems to get along quite well with Crazy Eyes. After that initial tease, a series of wild scenes are shown.
Piper claims, she's ready to rip someone's throat out, Crazy Eyes bumps into walls. Taystee is ready to definitely be friends with someone she's talking to, and more. Check it out,below. Season 2 is scheduled to premiere on June 6th,2014 on Netflix.
Read More..>>