April 13, 2014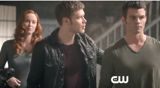 Originals episode 18,season 1 two new spoiler clips released. Recently, CW dropped these 2,new,sneak peek/spoiler clips (below) for their upcoming "The Originals" episode 18 of season 1, and they look pretty interesting as Genevieve reveals she wants to throw a big witch party, and more. The episode is called, "The Big Uneasy."
In the first clip, crazy Klaus is spotted,complaining about the loudness of the new construction work that's going down. However, Genevieve expresses her agreement with Elijah, which eventually leads to her, making request that the witches be allowed to celebrate feast day.
In the 2nd clip, Elijah reveals that he doesn't think the witches deserve to throw a party after all the trouble they've caused in the past. However, we see them throwing a big party bash anyways. Then the clip caps off with Klaus getting quite violent with Genevieve, telling her, he will not be manipulated, and more. Check em out,below.
Episode 18 airs this Tuesday night, April 15th at 7pm central time on the CW.
Read More..>>