April 11, 2014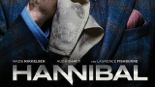 New Hannibal season 2,episode 8 official spoilers,synopsis released by NBC. Recently, NBC revealed the new,official,synopsis/spoilers for their upcoming "Hannibal" episode 8 of season 2, and it sounds pretty disgusting as a woman's body is found inside a horse, and more. The episode is called, "Su-Zakana."
In the new episode 8 press release: When a young woman's body is discovered inside of a horse, Hannibal is going to suggests to Jack that Will be brought in to help crack this peculiar case. Will is going to seemingly cast aside his suspicions of Hannibal, resuming their doctor-patient relationship, but Alana will remain skeptical regarding Will's true intentions and will worry that Hannibal may still be in danger.
The FBI is going to question the man they suspect to be the killer in their case, but a lack of evidence will force them to let him go. Will and Hannibal are going to race to guard the safety of a witness they believe is in jeopardy. However, it might be Will's own judgment that is in peril.
Episode 8 is scheduled to air on Friday night, April 18th at 9pm central time on NBC.
Read More..>>