February 27, 2014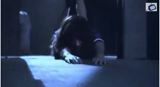 New Criminal Minds season 9,episode 17 official spoilers,synopsis & clips released by CBS. Last night,CBS dropped the new,official,synopsis/spoilers and promo/spoiler clip (below) for their upcoming "Criminal Minds" episode 17, and it looks quite interesting and crazy as people get tortured in underground tunnels, and more. The episode is called, "Persuasion."
In the new episode 17 press release: The Bau will investigate mysterious drowning deaths discovered in the Las Vegas desert. Press release number 2: Mysterious drowning deaths discovered in the Las Vegas desert, will have the BAU trying to figure out the true cause and motive for the murders. CHEAT TWEET: The BAU investigates curious drowning deaths in the Vegas desert on #CriminalMinds, 3/5, 9pm http://bit.ly/NfkceM.
Guest stars will include: David Clennon (Marvin Caul), Ashton Holmes (Finn Bailey), Michael Irby (Cesar Jones), Susan Santiago (Det. Solana Ramirez), Darren Romeo (Romeo the Magician), Gregory Bach (Olsen), Keelin Woodell (Sarah Renfield), Sheila Shaw (Irma), Mark Sande (Bill), Keisuke Hoashi (Dr. John Chen), Travis Hammer (Elijah Hall), Courtney Cunningham (Frida Bancroft), Kayla Crance (Renee Sheffield), Karen Teliha (Gladys), and Olga Pikhienko (Olga the Contortionist).
The episode was written by Sharon Lee Watson, and it was directed by Rob Lieberman. Episode 17 is scheduled to air on Wednesday night, March 5th at 8pm central time on CBS.
Read More..>>