December 13, 2013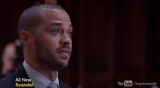 New Grey's Anatomy season 10,episode 13 shocking spoiler promo clip released. Last night, ABC dropped this new, promo/spoiler clip (below) for their upcoming "Grey's Anatomy" episode 13 of season 10, and it looks hella dramatic as Jackson interrupts April's wedding, Cristina expresses extreme frustration with Meredith, and more. The episode is currently awaiting a title.
In the new clip, Cristina is definitely upset with Meredith, because she doesn't think Meredith has her back or something. They also reveal that the show will return for 12 straight whopping weeks without any repeats. Now, that's huge. And OMG! Jackson is spotted, interrupting April's wedding to say he loves her,lol!! Wow!!
Everyone is in absolute disbelief too as Jackson asks April if she loves him back! Check it out,below. Episode 13 is scheduled to air on Thursday night,February 27th at 8pm central time on ABC.
Read More..>>