September 16, 2016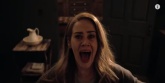 American Horror Story season 6,episode 2 intense spoiler promo clip released. The other night, FX dropped the new promo spoiler clip (below) for their upcoming "American Horror Story" episode 2 of season 6, and it looks very dramatic, extremely intense and wild as hell as just about everyone is spotted getting spooked out of their freaking minds.
Some crazy window shattering violence takes place. Some guy is just convinced that something in the woods is out to end his life, and more! The episode is called, "Chapter 2."
In the new clip, we see a lot of horrifying events and lots of screaming as it's revealed that there's some human sacrificing going on, along with some Devil worshipping! Some heavy custody arguments are spotted taking place!
Some guy reveals that he thinks something in the woods, really wants to kill him! We see windows getting broken at one point while folks are getting terrified out of their minds!
Read More..>>