April 24, 2014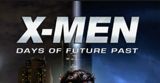 New X Men,Days Of Future Past opening scene spoilers dished out by producer,new clip. Recently, "X-Men: Days Of Future Past" producer/writer, Simon Kinberg, chatted it up with the folks at Collider , and revealed some new intel about the movie, which included some major opening scene spoiler action. It turns out that we'll see Kitty Pryde as leader of a certain group of mutants in a futuristic setting, and more. (video below).
At one point in the new clip, Simon explained when asked about it: "Well, that opening scene is introducing, really, this sort of refugee group of mutants that Kitty's the leader of in the future. And so, in the movie, it's before we even meet our X-Men, it's before we meet Patrick, Ian, Hugh, and Halle.
We sort of cold open in many ways on Kitty, Warpath, Blink, Colossus, Sunspot, Bishop, and we sort of wanted to show what a pack of these refugees living day to day knowing the Sentinels are out there, what their life would be like, and what an attack would look like, and also setting up Kitty's power, of being able to send consciousness back in time to warn people so that they can move away before the attack comes.
That's the sort of critical engine of the movie, her sending a consciousness back to 1973 to warn that something bad is gonna happen that they've got to stop from happening." The movie is set to arrive in theaters on May 23rd.
Read More..>>