January 3, 2014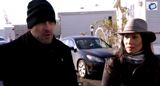 New Elementary season 2,episode 13 official spoilers & clips released by CBS. Recently,CBS dropped the new,official,synopsis/spoilers and sneak peek,clip (below) for their upcoming "Elementary" episode 13 of season 2, and it looks pretty interesting as Holmes and Watson investigate a smelly barrel, and more. The episode is called, "All In The Family."
In the new episode 13 press release: When a body is found in a barrel, Holmes (Jonny Lee Miller) and Watson will launch an investigation into the Mafia's ties to the murder. In the meantime, Sherlock is going to attempt to make amends with Detective Bell. Peter Gerety will guest star as Deputy Commissioner Frank Da Silva ,and Paul Sorvino will appear as Robert Pardillo, a suspected mafia boss.
Other guest stars will include: Danny McCarthy as Detective Nash, Wendy Hoopes as Detective Annie Wozniak, Tim Guinee as Dean McNally, Fulvio Cecere as Dante Scalice, Vincent Curatola as Theodore "Big Teddy" Ferrara, Jed Orelmann as Riley, James Andrew O'Connor as a Security Guard, and Nick Dillenburg as a Uniform Cop.
The episode was written by Co-Executive Producer Jason Tracey, and it was directed by Andrew Bernstein. Episode 13 is scheduled to air on Thursday night, January 9th at 9pm central time on CBS.
Read More..>>