February 11, 2014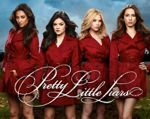 New Pretty Little Liars season 4,episode 20 official spoilers,synopsis released by ABC Fam. Recently, ABC Family served up the new,official,synopsis/spoilers for their upcoming "Pretty Little Liars" episode 20 of season 4, and it sounds pretty interesting as Spencer wants to tell Aria what she's got on Ezra, and more. The episode is called, "Free Fall."
In the new episode 20 press release: Spencer's addiction could get in the way of the girls' plans. Press release number 2: Spencer will be determined that it is finally time to tell Aria about what she has found out about Ezra, but Emily and Hanna will be worried about what it could do to their friend.
A wrench will be thrown into the plan when Ezra tells Aria about his concern and suspicion of Spencer's recent addiction problem. Now with Spencer's credibility being questioned, can the girls trust what Spencer has been telling them about Ezra. Could this all be a figment of Spencer's tired brain or really just a clever ploy by Ezra to cover his tracks?
Episode 20 is scheduled to air on Tuesday night, February 18th at 7pm central time on ABC Family.
Read More..>>