February 4, 2014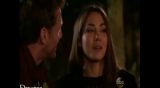 New Bachelor 2014,episode 6 dramatic spoiler promo clip released. Last night,ABC dropped this new promo/spoiler clip (below) for their upcoming "The Bachelor 2014″ episode 6, and it looks pretty dramatic and interesting as Clare just can't get over Juan's issues from the last episode, Sharleen starts to show how emotionally unstable and insecure she is, and more.
In the new clip, Juan and the ladies are spotted, having a blast in Lake Taupo, New Zealand. Juan lays some more heavy kissing action on a couple of the women. Nikki is spotted, telling Juan, she's totally falling for him, and everything just seems peachy keen on that end of the spectrum. However, we see annoying Clare still having a problem with what Juan told her in the last episode ,and keeps questioning him about why he just didn't stop her in the moment it was happening if he had such a problem.
Then uptight Sharleen is spotted getting ,well, uptight and insecure, and wants to go home. Check it out,below. Episode 6 is set to air on Monday night,February 10th at 7pm central time on ABC.
Read More..>>