Subscribe to HWH's Free Updates:
Fox Released New 'Glee' Episode 14,Season 3 Crazy Spoilers & Clips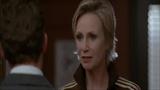 Fox released new 'Glee' episode 14,season 3 crazy spoilers & clips. Yesterday,Fox revealed the new spoilers and sneak peek,clip (below) for the upcoming "Glee" episode 14,and it looks pretty wild as Rachel tries to rush her Finn wedding,Sue says she pregnant,and more. The new episode is entitled, "On My Way."
In the new episode 14, things are going to heat up when the New Directions group goes head-to-head with the Dalton Academy Warblers at Regionals. Quinn is seen,telling Rachel,she's making a huge mistake by marrying Finn. Rachel is seen,pushing Finn to go ahead and marry her early.
Sue tells Will,she's pregnant, WTF? Rachel is spotted,sporting a wedding dress,while her fathers look to stop the wedding. It's definitely a cluster F. Episode 14 airs Tuesday,February 21st at 7pm central time on FOX. Follow us on Facebook by Clicking Here. Follow us on Twitter by Clicking Here.
Did You Enjoy this Post? Subscribe to Hollywood Hills on Facebook, Twitter, & Email
Recent Posts from On The Flix: