Subscribe to HWH's Free Updates:
Grey's Anatomy Season 10,Episode 7 Two New Spoiler Clips Released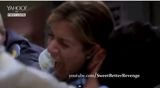 Grey's Anatomy season 10,episode 7 two new spoiler clips released. Recently,ABC released, these 2,new,sneak peek/spoiler clips (below) for their upcoming "Grey's Anatomy" episode 7 of season 10, and it one of them looks hardcore horrific as Leah gets viciously attacked by a crazy patient, and more! The episode is called, "Thriller."
In the first clip, Alex reveals to Meredith that the house is completely ready for her little shindig only because he got the beer keg. Then Cristina starts strangely acting like a Debby Downer for not initially getting invited to Meredith's party. Meredith tries to invite her,but it still doesn't seem to do any good.
In the 2nd clip, a patient is rolled in who claims, he was bitten by a human. A few seconds later we see the guy who was doing the biting, get rolled in. At one point, Leah says the guy shouldn't even be alive as she can barely hear his heart, plus he's been shot twice! After that, the guy wakes up and tries to feast on Leah! OMG! Check it out,below. Episode 7 airs tonight,October 31st at 8pm central time on ABC. Stay tuned. Follow us on Facebook by Clicking Here. Follow us on Twitter by Clicking Here.
Did You Enjoy this Post? Subscribe to Hollywood Hills on Facebook, Twitter, & Email
Recent Posts from On The Flix: