Subscribe to HWH's Free Updates:
How I Met Your Mother Season 9,Episode 4 Two New Spoiler Clips Released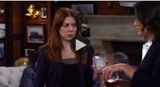 How I Met Your Mother season 9,episode 4 two new spoiler clips released. Recently, CBS dropped these two,new, sneak peek/spoiler clips (below) for their upcoming "How I Met Your Mother" episode 4 of season 9, and they look pretty funny as Barney and Ted cry over Scotch, and more. The episode is called, "The Broken Code."
In the first clip, Lily is spotted,trying to give Robin advice on how to get along better with women as Robin just doesn't seem to know what the problem is. However, it becomes quite apparent to Lily after Robin says a few things about her great metabolism, and more.
In the 2nd clip, Ted explains to a very upset Barney why he was caught holding hands with Robin. After that, they burst into tears over a $600 bottle of Scotch. Check it out,below. Episode 4 airs tomorrow night,October 7th at 7pm central time on CBS. Stay tuned. Follow us on Facebook by Clicking Here. Follow us on Twitter by Clicking Here.
Did You Enjoy this Post? Subscribe to Hollywood Hills on Facebook, Twitter, & Email
Recent Posts from On The Flix: