Subscribe to HWH's Free Updates:
MTV To Cancel 'Teen Mom' Show After Season 4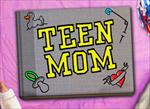 MTV to cancel 'Teen Mom' show after season 4. According to Hollywood Life,MTV is totally ready to throw in the towel on their hit reality show "Teen Mom" after they air the upcoming 4th season.
Apparently,MTV told Us Weekly, "season 4 will be the final season of Teen Mom with Maci, Catelynn, Amber and Farrah. They will continue to be a part of our MTV family, and we're thankful to these brave young women for sharing their stories and helping to make a positive impact on teen pregnancy prevention."
So,it looks like it's really official. Those girls' reality show money has finally ran its course. It's probably because they're getting too old to actually be called teens anymore. If they keep them on any longer,they would have to rename the show "20s Mom" or something. Lets just hope they were smart enough to save a bit of that MTV dough. Follow us on Facebook by Clicking Here. Follow us on Twitter by Clicking Here.
Did You Enjoy this Post? Subscribe to Hollywood Hills on Facebook, Twitter, & Email
Recent Posts from On The Flix: