Subscribe to HWH's Free Updates:
New Beauty And The Beast Season 2,Episode 3 Spoiler Promo Clip Released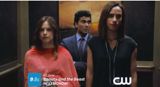 New Beauty And The Beast season 2,episode 3 spoiler promo clip released. Last night, CW dropped this new,promo/spoiler clip (below) for their upcoming "Beauty And The Beast" episode 3 of season 2, and it looks pretty intriguing as Vincent is suspect in a series of new beast attacks, and more. The episode is called, "Liar,Liar."
In the new clip, Tess is spotted, talking about more beast attacks going down ,and it appears that they may suspect Vincent of being involved. Gabe tells, Catherine , she'll be going on a date with Vincent. And at one point, Catherine is spotted pulling a gun for some more intense action.
Then we see Vincent, growling like nobody's business, so it looks like it could be another intense installment. Check it out,below, and stay tuned. Episode 3 is scheduled to air on Monday night, October 21st at 8pm central time on the CW. Stay tuned. Follow us on Facebook by Clicking Here. Follow us on Twitter by Clicking Here.
Did You Enjoy this Post? Subscribe to Hollywood Hills on Facebook, Twitter, & Email
Recent Posts from On The Flix: