Subscribe to HWH's Free Updates:
New Castle Season 6,Episode 3 Canada Spoiler Promo Clip Released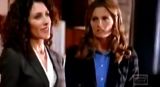 New Castle season 6,episode 3 Canada spoiler promo clip released. Recently, this new, Canadian promo/spoiler clip (below) for the upcoming "Castle" episode 3 of season 6, hit the net, and it looks pretty interesting as Castle and company work an odd case, and more. The episode is called, "Need To Know."
In the new clip, Castle is spotted, talking about a washed up TV star dangling from a hook, so it appears that will be their next case. However, McCord tells Castle that she and Beckett will be taking over the case, and everything has to be reported to them. The clip caps off with Castle,rambling off a bunch weird stuff to Beckett as she just nods her head. Check it out,below.
Episode 3 is scheduled to air on Monday night, October 7th at 9pm central time on ABC. Follow us on Facebook by Clicking Here. Follow us on Twitter by Clicking Here.
Did You Enjoy this Post? Subscribe to Hollywood Hills on Facebook, Twitter, & Email
Recent Posts from On The Flix: