Subscribe to HWH's Free Updates:
New Criminal Minds Season 9,Episode 2 Second Spoiler Clip Released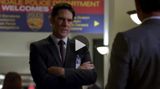 New Criminal Minds season 9,episode 2 second spoiler clip released. Recently,CBS dropped this new,2nd sneak peek/ spoiler clip (below) for their upcoming "Criminal Minds" episode 2 of season 9, and it features a new look at Aaron,trying to handle business regarding the two psycho twin UnSubs, and more. The episode is called, "The Inspired."
In the new clip, Aaron is seen ,asking some important information about those psycho twins, Jessie and Wallace. Unfortunately, Aaron doesn't get the answers he's seeking. Check it out ,below. In this episode, the BAU will end up, zeroing in on the suspect of the ritualistic killings they've been investigating in Arizona, and a bizarre connection within the UnSub's family, might lead them to finally nab the suspect.
Episode 2 airs tonight,October 2nd at 8pm central time on CBS. Stay tuned. Follow us on Facebook by Clicking Here. Follow us on Twitter by Clicking Here.
Did You Enjoy this Post? Subscribe to Hollywood Hills on Facebook, Twitter, & Email
Recent Posts from On The Flix: