Subscribe to HWH's Free Updates:
New 'Game Of Thrones' Season 3 Spoilers Revealed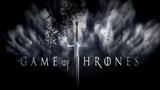 New 'Game Of Thrones' season 3 spoilers revealed. According to a new report from Collider, a new character list for the upcoming "Game Of Thrones" season 3 has been revealed,and with it, came some new spoilers. First off, the third novel "A Storm of Swords" is being divided into two seasons because there's so much going on with it.
Now, for the season 3 characters. They are introducing Mance Rayder, who is a former member of the Night's Watch that became the "King Beyond the Wall," the leader of the Wildlings.
Next, is Daario Naharis, who is a confident and seductive warrior. Jojen Reed and Meera Reed are a teenage brother and sister duo with special insights. Edmure Tully is a brash young member of the Tully family.
Ser Brynden Tully (The Blackfish) is Catelyn Stark's uncle. Lady Selyse Florent is Stannis Baratheon's wife. Shireen is Stannis' daughter. Olenna Redwyne (The Queen of Thorns) is Margaery Tyrell's sharp-witted grandmother.
Beric Dondarrion is a skilled knight who is the leader of the outlaw group Brotherhood Without Banners. Thoros of Myr is a red priest who follows the same religion as Melisandre. Finally, we have Tormund Giantsbane, who is a wildling raider.
This list came from producers David Benioff and Dan Weiss, and they said a couple of other characters may show up in season 3, that aren't listed here. Season 3 debuts way in April 2013, so prepare for another long wait. Damn that HBO. They really know how to test people's patience, don't they? Follow us on Facebook by Clicking Here. Follow us on Twitter by Clicking Here.
Did You Enjoy this Post? Subscribe to Hollywood Hills on Facebook, Twitter, & Email
Recent Posts from On The Flix: