Subscribe to HWH's Free Updates:
New Good Wife Season 5,Episode 3 Intense Spoilers & Clips Released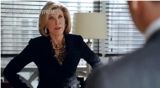 New Good Wife season 5,episode 3 intense spoilers & clips released. Last night, CBS dished out the new spoilers and sneak peek,clip (below) for their upcoming "The Good Wife" episode 3 of season 5, and it appears to be very drama-filled and intense as the firm seeks to drive Diane out of it, and more. The episode is called, "A Precious Commodity."
In the new episode 3, Alicia is going to get tempted to abandon her plans to leave the firm. Will is going to make Alicia a stunning offer which will cause her to reconsider her plans to leave the firm. Also, the partners are going to end up, taking action when Diane's Supreme Court candidacy puts her at odds with her colleagues.
The episode was written by: Keith Eisner and directed by Brooke Kennedy. Episode 3 is scheduled to air on Sunday night,October 13th at 8pm central time on CBS. Stay tuned. Follow us on Facebook by Clicking Here. Follow us on Twitter by Clicking Here.
Did You Enjoy this Post? Subscribe to Hollywood Hills on Facebook, Twitter, & Email
Recent Posts from On The Flix: