Subscribe to HWH's Free Updates:
New Grey's Anatomy Season 10,Episode 1 First Teaser Spoiler Clip Released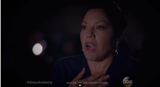 New Grey's Anatomy season 10,episode 1 first teaser spoiler clip released. Recently, ABC dropped this new,first, teaser/spoiler clip (below) for their upcoming "Grey's Anatomy" episode 1 of season 10,and it looks highly intense and drama-filled as the crazy storm is still going on. People are screaming loudly,and more. The episode is called, "Seal Our Fate."
In the new clip, the storm is still brewing and people are seen,running for their lives while some people scream, "Oh my God!" It's crazy and wild. Cristina is seen,running for her life. We get a glimmer of Meredith. At one point, poor Richard is seen,totally laid out. Major explosions go down and cars get flipped.
Jackson is seen ,getting super intense, ripping his shirt off,and more. Check it out,below. Season 10 debuts on Thursday night, September 26th. Stay tuned. Follow us on Facebook by Clicking Here. Follow us on Twitter by Clicking Here.
Did You Enjoy this Post? Subscribe to Hollywood Hills on Facebook, Twitter, & Email
Recent Posts from On The Flix: