Subscribe to HWH's Free Updates:
New Grey's Anatomy Season 10,Episode 11 Delayed Tonight,Not Airing Til Next Week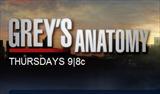 New Grey's Anatomy season 10,episode 11 delayed tonight,not airing til next week. Hey "Grey's Anatomy" fans. We've got some bad news for you guys. The new episode 11 of season 10,titled, "Man On The Moon" will be missing in action tonight. We're guessing it's most likely due to the Thanksgiving holiday as ABC is just all about the Thanksgiving specials tonight. They even got some cheesy Lady Gaga with the Muppets special they're showing. I was like man just choke me out right now,lol!!
Anyways, the new episode will be in action ,next week, on December 5th at 8pm central time, so go ahead and mark that down on your calendars. ABC did drop a couple of spoiler teasers for this episode in their official press release. It turns out that April's sisters will arrive to help celebrate April's upcoming nuptials and will quickly get on her nerves. Matthew and Jackson are going to be forced to work together when they witness a terrible accident.
Callie and Arizona are going to work hard to reestablish their relationship ,and Cristina will get pressured to live-stream an upcoming surgery. Stay tuned. Follow us on Facebook by Clicking Here. Follow us on Twitter by Clicking Here.
Did You Enjoy this Post? Subscribe to Hollywood Hills on Facebook, Twitter, & Email
Recent Posts from On The Flix: