Subscribe to HWH's Free Updates:
New Grey's Anatomy Season 10,Episode 13 Delayed Tonight,Not Airing Til February 2014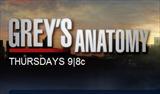 New Grey's Anatomy season 10,episode 13 delayed tonight,not airing til February 2014. Hey, "Grey's Anatomy" fans. We're sorry, but your favorite show is going to be missing in action, tonight, because it is currently on it's winter break, hiatus,and it's going to be gone for quite a while too as their return date is set for February 27th, 2014, so go ahead and pencil that in on your TV calendars and just get ready to wait.
On a good note, they did say, when they return from this long hiatus, they're going to show nothing but new shows straight through till the end of the season, so that's something to look forward to. ABC did drop a promo/spoiler clip (below) for episode 13 of season 10, which is still currently untitled. The clip reveals that Cristina will still be heavily frustrated with Meredith, because she doesn't think Meredith has her back or something. Then, OMG! Jackson is seen, totally interrupting April's wedding to say, he loves her!
If that weren't enough, Jackson asks April if she loves him back! Check it out,below and stay tuned. Follow us on Facebook by Clicking Here. Follow us on Twitter by Clicking Here.
Did You Enjoy this Post? Subscribe to Hollywood Hills on Facebook, Twitter, & Email
Recent Posts from On The Flix: