Subscribe to HWH's Free Updates:
New Grey's Anatomy Season 10,Episode 4 Intense Spoilers & Clips Released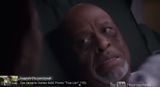 New Grey's Anatomy season 10,episode 4 intense spoilers & clips released. Last night, ABC served up the new spoilers and sneak peek,clip (below) for their upcoming "Grey's Anatomy" episode 4 of season 10, and it looks pretty drama-filled and intense as Richard gets majorly ticked off, shoves Bailey across the room,and more! The episode is called, "Puttin' on the Ritz."
In the new episode 4, The doctors of Grey Sloan Memorial are going to throw a fundraising gala which will turn wildly competitive after Jackson makes a rash promise. Back at the hospital, Bailey's patience will end up, getting tested when she has to deal with several extremely difficult patients.
Meanwhile, Shane and Stephanie will handle an incredibly busy ER by themselves ,and Alex is going to reveal an emotional secret to Jo. Episode 4 is scheduled to air on Thursday night, October 10th at 8pm central time on ABC. Stay tuned. Follow us on Facebook by Clicking Here. Follow us on Twitter by Clicking Here.
Did You Enjoy this Post? Subscribe to Hollywood Hills on Facebook, Twitter, & Email
Recent Posts from On The Flix: