Subscribe to HWH's Free Updates:
New Grey's Anatomy Season 10,Episode 8 Official Spoilers,Synopsis Released By ABC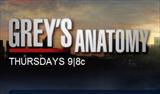 New Grey's Anatomy season 10,episode 8 official spoilers,synopsis released by ABC. Recently,ABC revealed the new, official,synopsis/spoilers for their upcoming "Grey's Anatomy" episode 8 of season 10, and it sounds like it'll get quite drama-filled as Cristina and Meredith's tensions continue to get even worse, and more. The episode is called, "Two Against One."
In the new episode 8 press release: Meredith and Cristina's friction will start to affect their work. Press release number 2: The issues between Meredith and Cristina will hit a boiling point when one of them, ultimately betrays the other at the hospital. Derek is going to tell Jackson that he needs to let go and allow the second year doctors to work on his patients.
April and Matthew are going to make a bold decision about their relationship. In the meantime, Bailey will have difficulties with Ben's return. Episode 8 is scheduled to air on Thursday night, November 7th at 8pm central time on ABC. Stay tuned. Follow us on Facebook by Clicking Here. Follow us on Twitter by Clicking Here.
Did You Enjoy this Post? Subscribe to Hollywood Hills on Facebook, Twitter, & Email
Recent Posts from On The Flix: