Subscribe to HWH's Free Updates:
New Mentalist Season 6,Episode 3 Spoilers & Clips Released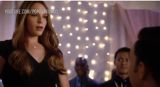 New Mentalist season 6,episode 3 spoilers & clips released. Last night, CBS served up the new spoilers and sneak peek,clip (below) for their upcoming "The Mentalist" episode 3 of season 6, and it looks pretty cheery as Grace and Wayne get ready to have their big ole wedding, and more. The episode is called, "Wedding In Red."
In the new episode 3, Jane is going to get the CBI involved in a case in Napa in order to focus on Sheriff McAllister. Van Pelt and Rigsby are going to take a trip down the aisle. Grace will happily accept Wayne's proposal. Meanwhile, Patrick will claim to be legally ordained, but Teresa won't believe him for a second.
Episode 3 is scheduled to air on Sunday night, October 13th at 9pm central time on CBS. Stay tuned. Follow us on Facebook by Clicking Here. Follow us on Twitter by Clicking Here.
Did You Enjoy this Post? Subscribe to Hollywood Hills on Facebook, Twitter, & Email
Recent Posts from On The Flix: