Subscribe to HWH's Free Updates:
New NCIS Los Angeles Season 5,Episode 3 Wild Spoilers & Clips Released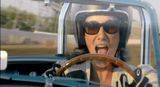 New NCIS Los Angeles season 5,episode 3 wild spoilers & clips released. Last night, CBS released the new spoilers and sneak peek,clip (below) for their upcoming "NCIS: Los Angeles" episode 3 of season 5, and it looks pretty wild and intense as Deeks, Kensi ,and Sam partake in some fast car driving action, and more. The episode is called, "Omni."
In the new episode 3, While the NCIS: LA team investigates the death of a bio tech CEO whose company was working on a classified vaccine, Deeks will wrestle with his emotions as he returns to the job. The NCIS: LA team will have to find who compromised a classified vaccine project from a bio tech company.
Meanwhile, Deeks will struggle with his emotions upon returning to the field. Episode 3 is scheduled to air on Tuesday night, October 8th at 8pm central time on CBS. Stay tuned. Follow us on Facebook by Clicking Here. Follow us on Twitter by Clicking Here.
Did You Enjoy this Post? Subscribe to Hollywood Hills on Facebook, Twitter, & Email
Recent Posts from On The Flix: