Subscribe to HWH's Free Updates:
New NCIS Season 11,Episode 2 Emotional Spoilers & Clips Released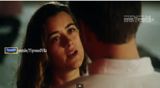 New NCIS season 11,episode 2 emotional spoilers & clips released. Last night, CBS dropped the new spoilers and sneak peek,clip (below) for their upcoming "NCIS" episode 2 of season 11, and it looks quite emotional as Tony and Ziva passionately kiss, and more. The episode is called, "Past, Present, and Future."
In the new episode 2, Gibbs and the team are going to search for a terrorist ring ,stateside, and Tony will end up, traveling to Israel with the sole mission of finding Ziva. Determined to locate Ziva, Tony is going to chase leads in Israel in search of her current whereabouts.
Meanwhile, Gibbs and the team are going to continue the hunt for Parsa and his growing terrorist ring. Actor,Joe Spano, will guest star as Senior FBI Agent T.C. Fornell. Episode 2 is scheduled to air on Tuesday night,October 1st at 7pm central time on CBS. Stay tuned. Follow us on Facebook by Clicking Here. Follow us on Twitter by Clicking Here.
Did You Enjoy this Post? Subscribe to Hollywood Hills on Facebook, Twitter, & Email
Recent Posts from On The Flix: