Subscribe to HWH's Free Updates:
New Once Upon A Time Season 3,Episode 4 Intense Spoiler Promo Clip Released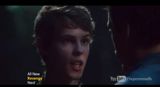 New Once Upon A Time season 3,episode 4 intense spoiler promo clip released. Last night, ABC dropped this new,promo/spoiler clip (below) for their upcoming "Once Upon A Time" episode 4 of season 3, and it look pretty wild and intense as evil Peter Pan makes more threats, Neal/Baelfire moves in for the Peter Pan attack, and more! The episode is called, "Nasty Habits."
In the new clip, Emma and the gang are spotted, finding a map to what Emma calls home. Neal/Baelfire is spotted pointing a bow and arrow at Peter Pan in Neverland. Rumpelstiltskin reveals that you can only beat Peter Pan if you're willing to die. Peter Pan is spotted being even more evil than ever before, saying, there is no escaping Neverland. Uh oh! Check it out,below.
Episode 4 is scheduled to air on Sunday night,October 20th at 7pm central time on ABC. Stay tuned. Follow us on Facebook by Clicking Here. Follow us on Twitter by Clicking Here.
Did You Enjoy this Post? Subscribe to Hollywood Hills on Facebook, Twitter, & Email
Recent Posts from On The Flix: