Subscribe to HWH's Free Updates:
New Originals Episode 3,Season 1 Extended Spoiler,Promo Clip Released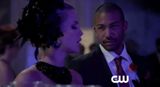 New Originals episode 3,season 1 extended spoiler,promo clip released. Last night, CW dropped this new,extended, promo/spoiler clip (below) for their upcoming "The Originals" episode 3 of season 1, and it looks pretty wild and intense as it serves up a few extra frames of intense madness, and more. The episode is called, "Tangled Up In Blue."
In the new clip, a very fancy party is seen, going down. Marcel is spotted, chatting it up with Rebekah again. Meanwhile, Klaus reveals there's a war in store. Marcel starts yelling over people trying to steal what's his. The very powerful Davina even looks frightened about something that's coming.
The clip caps off with a series intense scenes that feature a lot of chaos and violence. Check it out,below. Episode 3 airs on Tuesday night, October 15th at 7pm central time on the CW. Stay tuned. Follow us on Facebook by Clicking Here. Follow us on Twitter by Clicking Here.
Did You Enjoy this Post? Subscribe to Hollywood Hills on Facebook, Twitter, & Email
Recent Posts from On The Flix: