Subscribe to HWH's Free Updates:
New Scandal Season 3,Episode 2 Intense Spoilers & Clips Released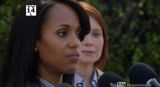 New Scandal season 3,episode 2 intense spoilers & clips released. Last night, ABC revealed the new spoilers and sneak peek,clip (below) for their upcoming "Scandal" episode 2 of season 3, and it looks quite intense as Olivia will go for blood in her latest scandal situation, Fitz will fully support her, and more. The episode is called, "Guess Who's Coming To Dinner."
In the new episode 2, Olivia's past is going to come back to haunt her. Through flashbacks, we will end up, learning more about Olivia's estranged relationship with her father. Meanwhile, both the White House and Pope & Associates will still be in the middle of cleaning up the very big and very public mess they created.
Guest stars will include: Kate Burton as Vice President Sally Langston, Norm Lewis as Senator Edison Davis, Brian Letscher as Tom, Steven W. Bailey as Coroner Noah Elliot, Samantha Sloyan as Jeanine Locke, Sharmila Devar as Lauren ,and Joe Morton as Rowan.
Episode 2 is scheduled to air on Thursday night,October 10th at 9pm central time on ABC. Stay tuned. Follow us on Facebook by Clicking Here. Follow us on Twitter by Clicking Here.
Did You Enjoy this Post? Subscribe to Hollywood Hills on Facebook, Twitter, & Email
Recent Posts from On The Flix: