Subscribe to HWH's Free Updates:
New Sons Of Anarchy Season 6,Episode 6 Intense Spoiler,Promo Clip Released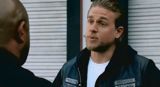 New Sons Of Anarchy season 6,episode 6 intense spoiler,promo clip released. Last night, FX delivered this new, promo/spoiler clip (below) for their upcoming "Sons Of Anarchy" episode 6 of season 6, and it appears to be wicked intense, yet again, as Jax's club burns down, Jax serves out more brutal violence, and more. The episode is called, "Salvage."
In the new clip, Jax and the MC are going to have to confront their past and choose their future. Jax's clubhouse is spotted, getting burned down and blown to smithereens, and JAX says, Sons Of Anarchy is at a crossroads. Tara says that she doesn't want to let her boys stay in Charming Heights if she ends up, having to go to jail.
Jax is seen ,heavily jacking up some guy's arm. Finally, Jax claims he didn't want a war, and more. Check it out,below. Episode 6 is due to air on Tuesday night, October 15th at 9pm central time on FX. Stay tuned. Follow us on Facebook by Clicking Here. Follow us on Twitter by Clicking Here.
Did You Enjoy this Post? Subscribe to Hollywood Hills on Facebook, Twitter, & Email
Recent Posts from On The Flix: