Subscribe to HWH's Free Updates:
New Supernatural Season 9 Sam's Gadreel Angel Details Revealed For 2nd Half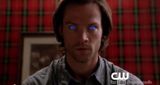 New Supernatural season 9 Sam's Gadreel Angel details revealed for 2nd half. As previously reported, TV Line served up another,new spoiler chat session,yesterday, and some new ,spoilery details for Supernatural season 9′s 2nd half of the season were revealed. It turns out that the Gadreel angel that's currently inside Sam's body, might show up in a different form when he eventually gets out of Sam.
Also, by saying that, they revealed that Sam will eventually be able to get rid of this angel from his body. In their spoiler chat reveal, they said: "Executive producer Jeremy Carver hints that "we might" see the BSG alum portray Gadreel at some point. "There are lots of different ways, shapes and forms people can appear on the show. Past, present…," he notes. "People shouldn't rush to any one conclusion. Just know there are a lot of different ways he could appear."
Stay tuned. Season 9 returns back for action on Tuesday night, January 14th,2014 at 8pm central time on the CW. Follow us on Facebook by Clicking Here. Follow us on Twitter by Clicking Here.
Did You Enjoy this Post? Subscribe to Hollywood Hills on Facebook, Twitter, & Email
Recent Posts from On The Flix: