Subscribe to HWH's Free Updates:
New Supernatural Season 9,Episode 1 Spoiler Promo Clip Released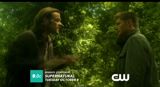 New Supernatural season 9,episode 1 spoiler promo clip released. Recently, CW dropped this new, promo/spoiler clip (below) for their upcoming "Supernatural" episode 1 of season 9, and it looks pretty intense and interesting as Sam appears to almost be dead, the Abaddon demon tries to take over, and more. The episode is called, "I Think I'm Gonna Like It Here."
In the new clip, Sami is spotted sick as a dog, and Dean is quite upset about it. The evil Abaddon is seen, threatening all the fallen Angels, claiming if they don't bow down to her, they will burn. Some new hardcore violence goes down. Towards the end of the clip, we find out that Sam isn't just sick as hell as he's seen, having a run-in with "Death" himself. Uh oh. it looks pretty wild. Check it out,below.
Season 9 is due to air on Tuesday night, October 8th on the CW. Follow us on Facebook by Clicking Here. Follow us on Twitter by Clicking Here.
Did You Enjoy this Post? Subscribe to Hollywood Hills on Facebook, Twitter, & Email
Recent Posts from On The Flix: