Subscribe to HWH's Free Updates:
New Vampire Diaries Season 4,Episode 11 Australian Spoiler Clip Released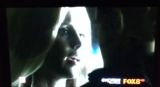 New Vampire Diaries season 4,episode 11 Australian spoiler clip released. Recently,this new,Australian,sneak peek/spoiler clip (below) for the upcoming "Vampire Diaries" episode 11 of season 4,hit the net,and it looks pretty steamy as Rebekah vamp, finally makes her play for Stefan's affections,and more. The episode is called, "Catch Me If You Can."
In the new clip, Rebekah is spotted all up in Stefan's grill,telling him to stop caring as she moves in for a very steamy,sensual kiss. And it appears that Stefan might just give into her wicked advances as the clip comes to a close.
One thing's for sure,Rebekah is definitely ready to get it on with Stefan in this next episode,and isn't wasting anytime at all. Check it out,below. Episode 11 airs this Thursday night,January 24th at 7pm central time on the CW. Follow us on Facebook by Clicking Here. Follow us on Twitter by Clicking Here.
Did You Enjoy this Post? Subscribe to Hollywood Hills on Facebook, Twitter, & Email
Recent Posts from On The Flix: