Subscribe to HWH's Free Updates:
New Vampire Diaries Season 5 Elena Needle Stabbing Aftermath Spoilers Revealed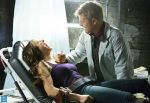 New Vampire Diaries season 5 Elena needle stabbing aftermath spoilers revealed. Recently, TV Line got to chat it up with Vampire Diaries Executive Producer, Julie Plec, right after the big Vampire Diaries season 5, episode 10 winter finale episode aired,and got the skinny on what we can expect to see, moving forward when the show returns back for action on January 23rd, 2014.
In this particular segment, Julie really cleared up some confusion about that whole Elena needle stabbing incident when Wes actually stabbed her with that stuff that was going to make her crave vampire blood. Well, it turns out that Wes wasn't actually able to get any of the fluid into her, so, thank God, she'll be safe from that. When asked about that, Julie told them: "It was hard to visually tell that story, but no. When we saw the needle on the ground, it was still full. So she's safe."
In related news, Julie did reveal that the needle will still have some fallout as Aaron picked it up and ran off with it. Stay tuned. Follow us on Facebook by Clicking Here. Follow us on Twitter by Clicking Here.
Did You Enjoy this Post? Subscribe to Hollywood Hills on Facebook, Twitter, & Email
Recent Posts from On The Flix: