Subscribe to HWH's Free Updates:
New Vampire Diaries Season 5,Episode 5 Extended Spoiler Promo Clip Released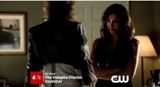 New Vampire Diaries season 5,episode 5 extended spoiler promo clip released. Last night, CW dropped this new,extended, promo/spoiler clip (below) for their upcoming "Vampire Diaries" episode 5 of season 5, and it looks very interesting as Katherine gets told Silas needs every last drop of her blood, and more! The episode is called, "Monster's Ball."
In the new extended promo, we see a few extra frames that the original promo didn't show. Damon is spotted, explaining how he wants to use Silas' death to try and bring Bonnie back to life. Bonnie gets ticked off at the idea, and chews Jeremy out over it. Nadia tells Katherine, Silas needs every last drop of her vampire cure infested blood.
If all that weren't enough, we hear Silas tell Damon, he wants him to kill Stefan. Oh no! Check it out,below. Episode 5 is scheduled to air on Thursday night, October 31st at 7pm central time on the CW. Stay tuned. Follow us on Facebook by Clicking Here. Follow us on Twitter by Clicking Here.
Did You Enjoy this Post? Subscribe to Hollywood Hills on Facebook, Twitter, & Email
Recent Posts from On The Flix: