Subscribe to HWH's Free Updates:
Once Upon A Time Season 3,Episode 5 Two New Spoiler Clips Released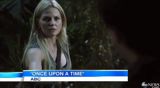 Once Upon A Time season 3,episode 5 two new spoiler clips released. Recently, ABC served up these, 2,new, sneak peek/spoiler clips (below) for their upcoming "Once Upon A Time" episode 3 of season 5, and they look pretty interesting as Emma gives Hook a hardcore kiss, and more! The episode is called, "Good Form."
In the first clip, Emma is spotted, trying to convince one of the Lost Boys to help her get Henry back from evil Peter Pan's clutches, but the boy refuses, claiming he never wants to go home. He also throws her message to Henry away like little brat. In the 2nd clip, Emma is seen, thanking Hook for saving Charming/David from dying in more ways than one as she grips him tight for a passionate kiss that nearly sucks his face off,lol!! Check it out,below.
Episode 5 is scheduled to air this Sunday night,October 27th at 7pm central time on ABC. Stay tuned. Follow us on Facebook by Clicking Here. Follow us on Twitter by Clicking Here.
Did You Enjoy this Post? Subscribe to Hollywood Hills on Facebook, Twitter, & Email
Recent Posts from On The Flix: