Subscribe to HWH's Free Updates:
Scandal Season 3,Episode 2 Two New Spoiler Clips Released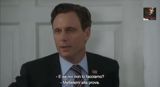 Scandal season 3,episode 2 two new spoiler clips released. Recently, ABC dished up these 2,new,sneak peek/spoiler clips (below) for their upcoming "Scandal" episode 2 of season 3, and they look pretty drama-filled as Olivia is sound at work for more cover up action, Fitz lets Mellie and Cyrus know who's really in charge, and more. The episode is called, "Guess Who's Coming To Dinner."
In the first clip, Cyrus and Mellie try to tell Fitz to say, he had sex with Jeanine Locke, but Fitz tells them absolutely not. In fact, he orders them to give Jeanine a big ,fat apology, and more. In the 2nd clip, Olivia is spotted, defending the allegations against Jeanine of having an affair with President Fitz,and she also throws in a little defense for herself. And she definitely makes it sounds damn believable,lol!! Check it out.
Episode 2 airs tonight,October 10th at 9pm central time on ABC. Stay tuned. Follow us on Facebook by Clicking Here. Follow us on Twitter by Clicking Here.
Did You Enjoy this Post? Subscribe to Hollywood Hills on Facebook, Twitter, & Email
Recent Posts from On The Flix: