Subscribe to HWH's Free Updates:
Scandal Season 3,Episode 9 Two New Spoiler Clips Released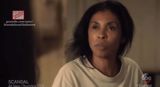 Scandal season 3,episode 9 two new spoiler clips released. Recently, ABC served up these 2,new,sneak peek/spoiler clips (below) for their upcoming "Scandal" episode 9 of season 3, and they look quite dramatic as the revelation that Olivia's mom is still alive, has everyone edgy as hell, and more. The episode is called, "YOLO."
In the first clip, Olivia's crew are spotted, trying to sort out the details of why Olivia's mother is still alive, while Olivia has seemingly checked out,mentally, over the shock of it all. Abby demands Olivia's mother, tell them what's up. From there, Olivia's mother tells them, she's been held captive for 22 years over some info she obtained. After that, they start attacking her. Wow!
In the 2nd clip, Olivia is spotted, telling Huck that her mother is alive and in her apartment. From there, Huck immediately orders Olivia to quickly get her mother out of her apartment and to the safe house as she's in great danger! Un oh! Check it out,below. Episode 9 airs tonight, December 5th at 9pm central time on ABC. Stay tuned. Follow us on Facebook by Clicking Here. Follow us on Twitter by Clicking Here.
Did You Enjoy this Post? Subscribe to Hollywood Hills on Facebook, Twitter, & Email
Recent Posts from On The Flix: