May 16, 2016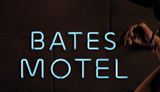 New Bates Motel season 5 confirmed,new spoilers coming soon. Hey, "Bates Motel" fans. We're very happy to be able to tell you guys, right now, that your favorite show was actually renewed for a brand new season 5 way back in June 2015 when season 4 was renewed according to Deadline.
This also means that you guys can expect to see new spoilers, videos, photos and all that good stuff in the future weeks and months, so be on the lookout for all of that.
Also, A&E Executive Vice President/General manager, Rob Sharenow, stated some wonderful things about Bates Motel during the season 4 and 5 renewal announcement, saying: "The vision of our incredible creative team has exposed the steady breakdown of the relationship between Norman and Norma Bates.
Read More..>>