September 16, 2016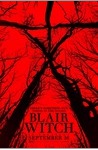 New Blair Witch movie got mixed reviews from top critics. Lionsgate released their new horror/thriller flick, "Blair Witch," into theaters today, September 16th, 2016, and all the reviews have been turned in by the top movie critics.
It turns out that they were pretty mixed about how they felt about it, giving it an overall 46 score out of a possible 100 score across 36 critic reviews at Metacritic.com.
The movie stars: James Allen McCune, Callie Hernandez, Brandon Scott, Valorie Curry, Corbin Reid and Wes Robinson. We've added comments from a few of the critics, below.
Kevin P. Sullivan from Entertainment Weekly, gave it an ok 75 grade. He said: "Blair Witch is the Hollywoodication of a film that defied the industry, and it works because of the profound respect for the original that hides beneath camera work that's too good and a cast that's too attractive."
Bill Zwecker over at the Chicago Sun-Times, gave it a 75 grade, stating: " Big kudos go out to screenwriter Barrett for creating a script that throws out so many curve balls.
Read More..>>