February 10, 2014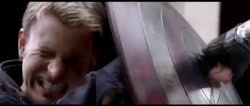 New Captain America 2,Winter Soldier TV spot,movie clip released. Recently, Marvel Studios served up this new, TV spot/movie clip (below) for their upcoming "Captain America 2: The Winter Soldier" super hero/action flick, and it appears to be very action-filled and intense. Captain America is spotted, hardcore battling it out with the Winter Soldier in the streets. The Black Widow and The Falcon are also seen, involved in some intense situations. Check it out,below.
The film stars: Chris Evans, Scarlett Johansson, Samuel L. Jackson, Robert Redford, Sebastian Stan, Anthony Mackie, Cobie Smulders, Frank Grillo, Georges St-Pierre, Hayley Atwell, Toby Jones, Emily VanCamp, and Maximiliano Hernández. In the new movie, the action will start off where "Marvel's The Avengers" left off.
Steve Rogers will continue his affiliation with Nick Fury and S.H.I.E.L.D. He will struggle to embrace his role in the modern world ,and partners up with Natasha Romanoff, aka Black Widow, to battle a powerful yet shadowy enemy in present-day Washington, D.C. It's scheduled to arrive in theaters on April 4th, 2014.
Read More..>>