September 2, 2016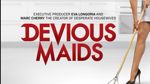 New Devious Maids season 5 never happening,Lifetime canceled It for good. According to a recent report from the TV Line folks, it turns out that there's some really bad news out there for you Devious Maids fans as Lifetime has delivered the shocking decision not to give your favorite show a brand new season 5, so that's it, guys.
Whatever you saw in the season 4 finale episode, is what you're going to be left with, forever. As previously reported, executive producer, Sabrina Wind, revealed that they had a completely new story to be told, but unfortunately, that's never going to happen.
It's believed that the recent poor ratings had a lot to do with Lifetime's decision to cancel the show. During it's initial first season, it pull in a good 3 million viewers. However, after that, the numbers just kept falling to just under one million viewers.
Read More..>>