March 19, 2016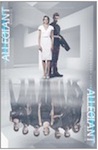 New Allegiant movie got mostly negative reviews from top critics. Summit Entertainment released their new action/drama flick, "The Divergent Series: Allegiant" into theaters this weekend, and all the critics have let us know what they think about it.
It turns out that most of them were pretty displeased with the outcome, giving it just an overall 34 score out of a possible 100 across 31 reviews at Metacritic.com.
The movie stars: Shailene Woodley, Theo James, Octavia Spencer, Naomi Watts, Jeff Daniels, Ray Stevenson, Zoe Kravitz, Miles Teller, Ansel Elgort, Maggie Q, Keiynan Lonsdale, Jonny Weston, Mekhi Phifer, Daniel Dae Kim, Nadia Hilker and Bill Skarsgård. We've added comments from a few of the critics, below.
Ben Croll from TheWrap, gave it a pretty less than stellar 56 grade, saying: "Allegiant" ends up feeling like a mid-season climax to serialized TV drama. The pieces are in play, the wheels in motion. Stay tuned, loyal viewers, and you'll get your answers next year."
Bill Zwecker from the Chicago Sun-Times, gave it a 50 score. He said: "The special effects are among the more positive aspects of "Allegiant," but those alone cannot rescue this highly flawed sequel."
Ariana Bacle over at Entertainment Weekly, gave it a 50 score, stating: "Allegiant aches to be a thought-provoking, moving allegory of the current world. Instead, it's an unwieldy two hours too unintentionally silly to validate how seriously it takes itself."
Read More..>>