July 26, 2014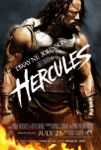 New Hercules 2014 movie got mixed reviews from top movie critics. MGM and Paramount Pictures released their new action/fantasy remake flick, "Hercules" into theaters this past Thursday, July 24th, 2014. And all the reviews are in from the top movie critics. It turns out that it only did well with about half of them with an overall 49 score out of 100 at metecritic.com.
The film stars: Dwayne Johnson, Ian McShane, Rufus Sewell, Joseph Fiennes, Peter Mullan, John Hurt, Rebecca Ferguson, Ingrid Bolso Berdal, Aksel Hennie and Reece Ritchie. We've posted blurbs from a couple of the critics,below.
Gary Goldstein from the Los Angeles Times, gave it a decent 70 grade, saying: "The mythically powerful demigod is back on the big screen in the simply titled Hercules and the results are canny, fast-paced, and, for what the film attempts to accomplish, enjoyable."
Stephen Farber over at The Hollywood Reporter, gave it a 70 score. He stated: "It may sound like a backhanded compliment to praise this sometimes cheesy movie for never taking itself too seriously, but in a summer of bloated spectacles, this modesty should not be underestimated."
Scott Foundas from Variety, gave it another 70 score, stating: "It's a grandly staged, solidly entertaining, old-fashioned adventure movie that does something no other Hercules movie has quite done before: it cuts the mythical son of Zeus down to human size (or as human as you can get while still being played by Dwayne Johnson)."
Elizabeth Weitzman over at the New York Daily News, gave it a 60 score. She stated: "Fast-paced, funny, and packed with – to indulge in a bit of ad-speak — eye-popping action."
Jeff Labrecque from Entertainment Weekly, gave it a 42 score, saying: "When Johnson is wearing the head of the slayed Nemean lion in battle, walloping enemies with his tree-trunk sized club, and heaving charging horses to the ground with remarkable ease, he's in his Rock comfort zone. But as a tortured hero hampered by self-doubt, Johnson labors."
Odie Henderson from RobertEbert.com, gave it a really bad 25 score, claiming: "Watching Hercules, you can feel your intelligence being insulted in almost every frame." Wow,lol!!
Read More..>>