March 28, 2015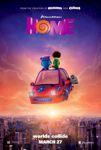 New Home Movie got mixed reviews from the top critics. 20th Century Fox and DreamWorks Animation released their new animation/comedy flick, "Home," into theaters this weekend, and all the top movie critics have delivered their reviews.
It turns out that it pleased at least half of them, getting an overall 55 score out of a possible 100 across 30 critic reviews at Metacritic.com.
The movie stars: Steve Martin, Jennifer Lopez, Rihanna and Jim Parsons. We've added blurbs from a couple of the critics,below.
Dana Rose Falcone at Entertainment Weekly, gave it a great 91 score, saying: "The combination of Home's layered message, fun score, and clever comedy make it a colorful choice for moviegoers of any age."
Tom Russo at the Boston Globe, gave it a 75 grade, saying: "Jim Parsons brings his own irrepressible energy to DreamWorks' 3-D animated Home, segueing from almost-alien misfit Sheldon Cooper on "The Big Bang Theory" to alien misfit, period."
Michael Phillips from the Chicago Tribune, gave it a 75 score. He said: "The movie is pretty droll, and it agitates for cross-species friendship; its aggressively packaged heart-tugging elements come with an interplanetary friendly resolution. Followed by a dance party."
Neil Genzlinger over at The New York Times, gave it a 70 score, saying: "A charming concoction with positive messages for younger children about conquering fears, understanding outsiders and knowing yourself."
James Rocchi from TheWrap, gave it a 60 grade, saying: " There's nothing in Home that you haven't seen before, but there's a lot in it your kids haven't; as animated sci-fi for small fry, it's a success whose modest but well-executed ambitions are no small part of its charm."
Peter Debruge from Variety, gave it a 60 score. He stated: "Unimaginative and downright predictable by grownup standards, but bursting with elements sure to appeal to younger auds."
Betsy Sharkey from the Los Angeles Times, gave it a 50 score. She said: "Tension is one of Home's biggest issues. There just isn't nearly enough of it. Story is another."
Read More..>>