June 24, 2016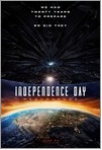 New Independence Day 2 Resurgence movie got mostly negative reviews from top critics. 20th Century FOX released their new action/sci-fi flick, "Independence Day 2: Resurgence," and all the top movie critics have turned in their reviews for it.
Unfortunately for the film, most of the critics didn't take to nicely to it, giving it an overall 37 score out of a possible 100 score across 18 critic reviews at Metacritic.com.
The movie stars: Liam Hemsworth, Jeff Goldblum, Bill Pullman, Judd Hirsch, Vivica A. Fox, Brent Spiner, Charlotte Gainsbourg, Jessie Usher, Maika Monroe, Angelababy , William Fichtner and Sela Ward. We've added comments from a few of the critics, below.
Leslie Felperin from The Hollywood Reporter, gave it a 60 score, saying: "The main thing consumers will be looking for from Resurgence is bang-for-buck entertainment, and that it delivers reasonably successfully."
Guy Lodge over at Variety, gave it a 60 grade. He said: "This cinematic Big Mac entertains abundantly on its own second-hand merits."
Read More..>>