July 29, 2016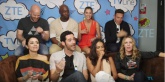 New Lucifer season 2 spoiler teasers dished by the cast & TV lIne,new clip. Recently, the TV Line crew got to chat up the Lucifer cast at the big 2016 Comic-Con event in San Diego,CA, and they dropped a couple of new season 2 spoiler scoopers for us (video below).
It turns out that we're going to find out that the Mother from Hell, Charlotte, didn't always didn't always reside in such a hot vessel. She will also be full of surprises, and more!
In the new clip, they talked about why this type of show is working so well on network television. Tricia Helfer commented on her Charlotte aka Mother from Hell character, saying she'll pretty much be full of surprises. In spite of some anger and some resentment and hard feelings, she loves her sons and does possess a maternal side.
Read More..>>