May 15, 2015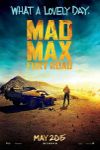 New Mad Max Fury Road movie got mostly positive reviews from top critics. Warner Bros. Pictures released their new action flick, "Mad Max: Fury Road" into theaters today, May 15th, and the top movie critics have unleashed their reviews.
It turns out that it's a very positive thing for this flick as most of them really liked it, giving it an overall 89 score out of a possible 100 across 42 reviews at Metacritic.com.
The movie stars: Charlize Theron, Megan Gale, Tom Hardy, John Howard, Nathan Jones, Nicholas Hoult, Zoe Kravitz, Richard Carter, Rosie Huntington-Whiteley, Hugh Keays-Byrne, Riley Keough, Abbey Lee Kershaw, Courtney Eaton, Josh Helman, Jennifer Hagan, iOTA , Angus Sampson, Joy Smithers, Gillian Jones, Melissa Jaffer and Melita Jurisic. We've provided blurbs from a few of the critics, below.
Kenneth Turan at the Los Angeles Times, gave it a perfect 100 score, saying: "Mad Max: Fury Road will leave you speechless, which couldn't be more appropriate. Words are not really the point when it comes to dealing with this barn-burner of a post-apocalyptic extravaganza in which sizzling, unsettling images are the order of the day."
Joe Morgenstern at the Wall Street Journal, gave it a 100 as well, saying: "The loveliest part of Mad Max: Fury Road is its grungy, quasi-Gothic imagery — the production was designed by Colin Gibson and photographed by John Seale. And the fullest flowering of its images can be found in its muscle cars, muscle trucks, muscle trailers and muscle buggies."
A.O. Scott at The New York Times, gave it a 100. He said: "Even in the most chaotic fights and collisions, everything makes sense. This is not a matter of realism — come on, now — but of imaginative discipline. And Mr. Miller demonstrates that great action filmmaking is not only a matter of physics but of ethics as well. There is cause and effect; there are choices and consequences."
Read More..>>