September 10, 2016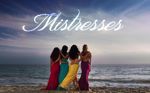 New Mistresses season 5 not happening,ABC officially canceled it. Hey, "Mistresses" fans. Unfortunately, we have some bad news to tell you as ABC came back with an earlier decision than usual, deciding to go ahead and cancel Mistresses. So, there will definitely not be a new season 5. You can forget about seeing who that mystery lady is that showed up at the end, claiming to be Karen Kim.
Whoever she is or was, she's out of a job now. It's disappointing too, because she was going to be featured a lot if there would've been a season 5. You can forget about wondering what direction they're going to take the show, because it's headed for the shelf.
All in all, it was a good run though. The show went out, drawing in 2.6 million viewers and an 0.6 rating, which was apparently on par with the show's season 3 finale.
Read More..>>